Has Hulu error code p-dev340 been causing you headaches lately? Don't worry; you're not alone! This pesky error code is a common issue Hulu users face. But the good news is there are multiple ways to fix it, and we've got you covered with 7 of them.
Understanding the root cause of p-dev340 is crucial in finding the best solution. This error typically occurs due to connectivity problems, outdated app versions, or issues with specific devices. With this in mind, we'll walk you through different methods to get your Hulu streaming experience back on track.
So, buckle up, and let's dive into these 7 ways to fix error code p-dev340 in Hulu. By the end, you'll be well-equipped to tackle this issue and have Hulu back up and running in no time.
Also Read: How To Fix Roblox Error Code 533?
Identifying the Hulu Error Code P-DEV340
Experiencing issues while streaming your favorite shows on Hulu can be frustrating, but it's crucial to understand the specific problem you're facing. If the error code is what's interrupting your binge-watching sessions, then you're in the right place. In this section, we will discuss how to identify this error and what it means to your streaming experience.
Firstly, you'll want to make sure it's indeed the P-DEV340 error that's causing the problem. Generally, Hulu itself will display an error message on your screen with the code P-DEV340. It might also include a brief description indicating that there's a problem with playback or the app itself. Take note of this code and any additional information provided to help you better understand and resolve the issue.
Now that you know it's the Hulu Error Code P-DEV340, let's delve into what it signifies. This error is typically related to playback failures and might indicate a problem with your internet connection or device. The error could arise due to several reasons, such as:
Poor internet connection
Incompatible device
Outdated app or operating system
Server-side issues with Hulu
Corrupted cache or data
By thoroughly understanding the P-DEV340 error, you're well on your way to fixing the issue and enjoying a seamless streaming experience on Hulu.
Restarting Your Streaming Device
Among the many ways to fix the error codes, restarting your streaming device is a simple and effective method. Here's a breakdown of how to do it:
Power off your device: First and foremost, make sure your device is completely turned off. To do this, locate the power button (usually found on the device's remote control or on the device itself) and hold it down until the screen goes black.
Unplug the power source: Once your device is powered off, unplug it from the wall or power strip for added security. This ensures a more thorough reboot.
Wait a few moments: Give your device about a minute to cool down and reset itself. This short break allows dormant processes to properly terminate and makes it easier for the device to refresh its system.
Plug it back in: Connect your streaming device back to the power source and turn it on. Watch closely for indications that it's booting back up.
Check for the Hulu error code p-dev340: Once your device has fully restarted, open the Hulu app and see if the error persists.
It's worth noting that each streaming device has its own unique set of steps for rebooting. Below, we've listed some popular devices and how to restart them:
Roku: Press and hold the "Home" button on your Roku remote for 5 seconds. Or you can unplug the power cord, wait 10-20 seconds, and plug it back in.
Apple TV: Press and hold the "Menu" and "Home" buttons simultaneously on your Apple TV remote until the light on the device starts blinking. You can also unplug the power cord, wait 10-20 seconds, and reconnect it.
Amazon Fire TV: Press and hold the "Select" and "Play/Pause" buttons on your Fire TV remote for 5 seconds. Alternatively, unplug the power cord for at least 20 seconds before plugging it back in.
Google Chromecast: Unplug the device from the power source and wait at least 30 seconds before reconnecting it. You can also restart your Chromecast by using the Google Home app on your smartphone.
By following these steps, you should be able to successfully restart your streaming device and potentially resolve the error code p-dev340 in Hulu. However, if the issue persists after restarting, continue exploring other ways to fix the error.
Checking Your Internet Connection and Speed
One of the possible reasons for this error is a shaky internet connection or low internet speed. Keep reading to find helpful tips on checking and improving your connection.
To start, you'll want to test your internet speed. You can do this using an online speed test tool like Speedtest.net or Fast.com. Once you've initiated the test, you'll see your download and upload speed results:
| | |
| --- | --- |
| Download Speed | Upload Speed |
| 25 Mbps+ | 3 Mbps+ |
For a smooth streaming experience, Hulu recommends a minimum download speed of 3 Mbps for Standard Definition (SD) content, 8 Mbps for High Definition (HD) content, and 25 Mbps for 4k Ultra HD content. If you find that your speeds aren't up to par, it's time to take some steps to improve your connection:
Move closer to your Wi-Fi router: Your Wi-Fi signal might not reach certain areas of your home due to its range. Try moving your streaming device closer to the router to improve the connection quality.
Restart your modem and router: Sometimes, a simple restart is all it takes. Unplug your modem and router, wait for 30 seconds, and plug them back in.
Check for Wi-Fi signal interference: Appliances and electronics like microwaves, cordless phones, or other Wi-Fi devices can interfere with your Wi-Fi signal. Keep these devices away from your router and streaming device.
Update your router's firmware: Router manufacturers frequently release firmware updates to improve performance and address issues. Make sure you're using the latest version available.
Use an Ethernet connection: If possible, opt for a wired Ethernet connection instead of Wi-Fi. It's generally more stable and faster than a wireless connection.
Reduce the number of devices connected: Disconnect unused devices from your network temporarily. The more devices connected to your Wi-Fi, the slower your connection may become.
Upgrade your internet plan: If none of the above steps work, you might want to consider upgrading to a faster internet plan.
Remember, a stable and speedy internet connection is essential for an enjoyable Hulu experience, so it's worth taking the time to investigate and resolve any issues.
Also Read: How to Fix PS5 Error Code CE-107857-8?
Clearing Cache and Data from Hulu App
Sometimes, clearing the cache and data from the Hulu app can effectively solve the issue. Cached data may become outdated, causing the app to experience errors. By following these simple steps, you'll have a better chance of getting back to watching your favorite shows in no time.
First things first, close the Hulu app if it's still open. You don't want the app running while you're making changes to its data.
For Android Devices
Go to your device's Settings.
Find and tap on Apps or Applications (this may vary depending on the device).
Locate and open the Hulu app from the list.
Tap on Storage and then on Clear Cache followed by Clear Data.
For iOS Devices
For iOS devices, you'll need to delete the Hulu app and then reinstall it to clear the cache and data. Follow these steps:
Press and hold the Hulu app icon.
When the icons start to wiggle, tap on the X that appears on the Hulu icon.
Confirm by tapping Delete.
Head to the App Store, search for Hulu, and reinstall the app.
Once you've cleared the cache and data, it's time to restart your device. This will ensure that any temporary files or changes get refreshed, giving your device a fresh start.
After restarting your device, open the Hulu app once more, and check to see if the issue is resolved. Keep in mind that clearing cache and data might require you to log in again, so make sure you have your Hulu login details handy.
Updating the Hulu App
Error code might be the result of running an outdated app version that's causing compatibility issues. In this section, we'll discuss these steps to help you update the Hulu app and potentially solve the error code.
Firstly, check if there's an update available for the Hulu app on your specific device. Most devices automatically update apps, but sometimes you might have to do it manually. Here's how to update the Hulu app depending on your device type:
iOS devices (iPhone, iPad): Open the App Store and tap on your profile icon in the top-right corner. Look for the Hulu app under 'Pending Updates' and tap 'Update' if available.
Android devices: Open Google Play Store and tap on the hamburger menu icon (☰) in the top-left corner. Select 'My apps & games', locate the Hulu app, and tap 'Update' if available.
Smart TVs and Streaming Devices: The update process may vary depending on your device. Consult your device's user manual or visit the manufacturer's support website for specific instructions.
Keep in mind that some devices may require a system update before you can update the Hulu app. Make sure you have the latest system version installed by checking for updates in your device settings.
Reinstalling the Hulu App
Reinstalling the app can effectively resolve issues by offering a clean, updated version and removing any corrupted files. Here's a step-by-step guide to reinstalling the Hulu app on different devices:
For Smart TVs and Streaming Devices
Remove the app: First and foremost, locate the Hulu app on your device's home screen. Then, press and hold the app's icon until the options menu appears. From there, select the option to remove or uninstall the app.
Restart your device: After the app is removed, turn off your device and unplug it from the power source. Wait for about 30 seconds before plugging it back in and turning it on. This helps clear any residual data and can refresh your device.
Reinstall the Hulu app: Once your device has rebooted, navigate to the app store or relevant platform for downloading the Hulu app. Search for Hulu, then proceed with the installation.
Log in and stream: Once the app reinstallation is complete, open Hulu and enter your login credentials. Test the app by streaming your desired content to confirm that the error has been resolved.
For Mobile Devices (Android and iOS)
Remove the app: Locate the Hulu app on your device. Press and hold the icon until an options menu appears. Choose to uninstall the app.
Restart your mobile device: Turn off and restart your mobile device to remove any residual app data.
Reinstall the Hulu app: Go to your device's app store (Google Play Store or App Store), search for Hulu, and install the app.
Log in and stream: Open the reinstalled Hulu app, input your login details, and start streaming to verify that the error code P-DEV340 issue is resolved.
By following the steps outlined above, you should be able to address any issues with the Hulu app that may be causing the error.
Ensuring Device Compatibility
Sometimes, the cause of the error might be simply because your device isn't compatible with Hulu. To ensure that your device is compatible, let's take a closer look at what you can do.
First off, check if your device is on Hulu's official list of supported devices. This list includes streaming devices like smartphones, tablets, gaming consoles, and smart TVs. You can find this list on Hulu's official website. If your device is not on the list, you'll have to switch to a supported device to enjoy streaming on Hulu without any issues.
Assuming that your device is compatible, it's important to note that older models of compatible devices may still experience issues with Hulu. If you're using an older device, consider upgrading to a newer model that's specifically optimized for streaming.
Contacting Hulu Support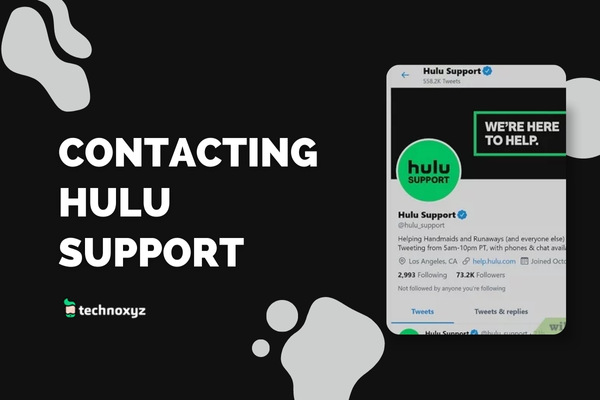 Sometimes, despite trying everything, the issue persists, and it's time to contact Hulu's customer service. They'll help you identify and resolve the issue. Here are the different ways you can reach out to Hulu support.
Hulu Help Center: Visit the official website help.hulu.com for troubleshooting tips, articles, and guides on how to resolve various issues, including the P-DEV340 error. You can enter your error code in the search bar, and this will give you relevant results.
Live Chat: For immediate assistance, you can use Hulu's live chat feature. You'll find the "Chat With Us" option on the website's support page, available 24/7. A Hulu representative will assist you in fixing the issue in no time.
Phone Support: You can also call Hulu support at +1 (888) 265-6650. Keep in mind; phone lines are primarily available Monday through Friday, 8 AM to 10 PM ET, and Saturdays and Sundays, 9 AM to 9 PM ET.
Twitter Support: Tweet your concerns and queries to @hulu_support, and they'll promptly reply or direct you to the proper channels for assistance.
Facebook Support: Send a message to Hulu support on their official Facebook page. They typically reply within a couple of hours.
To help the Hulu representative provide quicker support, be prepared with the following information:
Your account's email address
The device you're using, including brand and model
Your device's software version
A detailed description of the issue you're facing
Any error messages or codes (like P-DEV340) that appear
This will help the representative understand the problem better, save time, and provide you with an appropriate solution. With assistance from Hulu's support team, you'll be back to streaming your favorite shows in no time.
Remember: It's important to keep your Hulu account's email and password secure. Never share your password or other sensitive information on social media platforms.
Conclusion
By now, you've explored 7 potential solutions for Hulu error code p-dev340. It's crucial to remember that this issue can often be a result of various factors such as connectivity issues, outdated devices, or even problems with the service itself. To make your experience trouble-free, let's recap the 7 ways to address this error:
Restarting Your Streaming Device
Checking Your Internet Connection and Speed
Clearing Cache and Data from Hulu App
Updating the Hulu App
Reinstalling the Hulu App
Ensuring Device Compatibility
Contacting Hulu Support
By implementing these steps, you're actively taking control of the situation and maximizing the likelihood of resolving the error. Remember, the key is to stay patient and not to get discouraged if the first solution you try doesn't work. Troubleshooting often requires testing multiple methods before finding the one that works for your specific case.
Lastly, don't hesitate to reach out to Hulu support if you find these suggestions don't solve the issue. They're there to help, and they might have additional solutions or information regarding error code p-dev340. So, keep enjoying your favorite shows and movies on Hulu without any disruptions!