Hello there, today in this post I'll tell you how to easily root almost any Android device whether it's a phone or a tablet, running on any Android version directly from a device itself. No PC, no USB, none of that is required for this, It's 100% safe method with no risk of causing any harm to your device. Since this is a One-Click method you will only need to install an app on your phone, hit the root button, and boom your device is rooted under 2-minutes. This is also no data loss method which means all your apps, your pictures, your videos & all information on your device will be safe. This is not only the easiest way out there but it's also the most fastest and safest way to root almost any Android device. It makes rooting way more easier, faster and possible for a lot of Android users.
Before we get started, install Root Checker app to your device, you can install it from Google Play Store for free. This app lets you verify whether your device is rooted or not, means it will help you to verify root after rooting your device. If you open this before rooting, it will show "Sorry! Root access is not properly installed on this device" which means your device as for now is not rooted.
How to ROOT Any Android Mobile Phone / Tablet Within 2 Minutes Without a PC (One Click Method 2018)
The universal OneClick rooting app that we are going to use today is called Kingroot. Install it on your device, press on the root button and boom your device will be rooted, that's how easy it is.
Step 1: Download Official Kingroot App
In order to get this app Click here. It will directly take you to the official XDA-developers forum page and for those of you who don't know, XDA-developers is the most trusted and reliable place for rooting tutorials which means anything that goes up on here is guaranteed certified and legit. Now scroll down and do read the disclaimer instructions and the FAQ section given. It will answer any questions that you may have about rooting. Again rooting might void your device warranty so make sure that you give one good read. Once you have read all of these, scroll down until you see "Show full post" tap on it to see the full post, then scroll down until you see "Download Kingroot" the direct download button and tap on that to download Kingroot. It is only 20MB in size so it will not take long to download.
Step 2: Enable USB Debugging
Once the download is completed you can go ahead and install this app but before you do that make sure that USB debugging is enabled on your device if you don't know how to do that then follow these simple steps –
1. Enable Developer options on your device
Here's how you can – How to Enable, Disable & Hide Developer Options on Any Android Device
2. Open Developer options and make sure that it is turned on. Scroll down and you'll find the USB debugging option.
3. Tap on the check box to enable USB Debugging. You can turn this off after rooting is completed.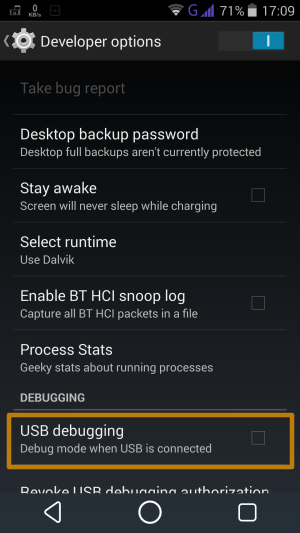 Step 3: Install Kingroot
Once the USB debugging is enabled, open up Kingroot apk that you just downloaded and install it just like a regular app. Now if you are installing an app outside from the Play Store for the first time make sure that unknown sources is checked in the device settings under the security tab.
Step 4: Open Kingroot
Once the installation of Kingroot is completed, open it. You can read the introduction given over here or just simply swipe up to skip that. Then tap on the try it button in order to enter the main interface.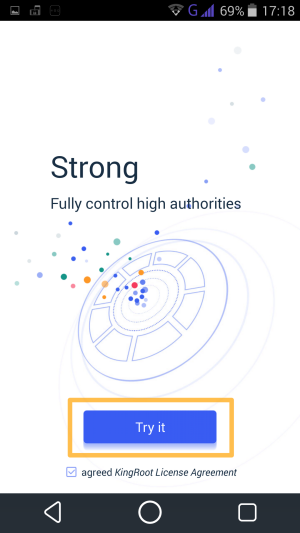 Step 5: Click "Start Root" button to Start Rooting
You will only have to tap "Start Root" button and rooting will begin but before you do that, make sure that your device is connected to the Internet and it has above 20% of battery on it. Once that is made sure, tap on the "Start Root" button and rooting process will begin. The thing that makes Kingroot the best rooting app is that it automatically identifies your device model then it connects with the cloud and looks up for the best rooting method for your particular device and automatically installs root on your device. Unlike traditional rooting methods, which require a PC, will have to flash the files manually, which not only requires some technical knowledge but will also take up to 30 minutes of your time. Kingroot does all of that for you in under two minutes and just to state you the obvious during the entire process to not touch your device, do not fit it around with it just grab a cup of coffee, sit back and let Kingroot do its magic.
When rooting will finish it will show a message "Root successfully" which means rooting is successful and as you can see it is successfully obtained root which is a good news but let's go ahead and confirm that. Open up Root Checker Basic that you installed earlier, allow the permissions and if it says "Congratulations! Root access is properly installed on this device!" means your device just got rooted.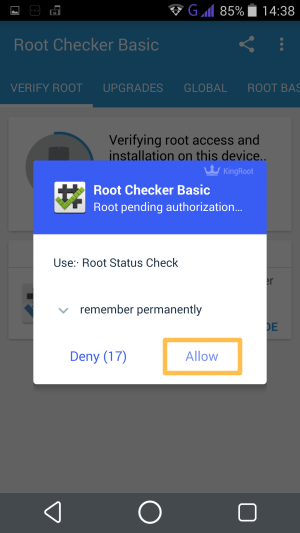 Features of Kingroot (The One Click Android Rooting App)
So without wasting any further time let's go ahead and talk about Kingroot's features now. Kingroot is the root manager for your device, through this you can control every aspect of root. Now let me tell you how the Kingroot app works and what all features it has and how do you use them.
1. Root authorization
The first option in the list is the Root authorization menu through this you can control what elapsed uses root, you can grant or deny the root permissions and control the overall root access directly from here.
2. Uninstall Tool
Next up in the list is the Uninstall tool, by using the uninstall tool you can get rid of bloatware. Bloatware are apps that comes pre-installed on your device which you cannot uninstall normally, now this will help you free up some space on your device's internal memory but be very careful while uninstalling system apps as it can affect your device functionality.
3. Auto-start Manager
The next option in the list is the Auto-start manager which is by far the most useful feature of kingroot. This enables you to shut down the apps that are always running in the background eating away your device memory, battery and slowing down your device performance. Auto-start manager will shut down the apps and will not allow them to restart. This will not only help increase the device speed and performance but also save a lot of battery.
4. Silent install control & System default management
Next in the list are Silent install control & System default management. Silent install control blocks silent installs through USB and prevents malicious memory consuming, it should be ON by default. With the help of System default management, you can manage default apps for various activities/categories, like music, videos, mail, camera, image and much more.
How to Unroot / Remove Root / Delete Root from Your Device (Mobile / Tablet)
For those of you who are wondering can I unroot or remove root from my phone? yes, you can unroot your device easily. Just open Kingroot and tap on the gear icon at the top right corner of the app and click on "Settings". It will take you directly to the kingroot settings then click on the "Uninstall Kingroot" at the bottom, read the disclaimer given over here and once you tap on the "Continue" button all traces of root will be uninstalled from the device in seconds and in case you want to get back your root access you can always root your device by following this same tutorial.
Rooting will not turn your phone into a sports car neither rooting will convert your tablet into an AK-47, it will only allow certain specific apps that require root to run on your device. Rooting will allow you to modify, customize and tweak your device. Rooting will also help you to install custom ROMs on your device. If you are new to rooting, there is an instruction section in the kingroot settings which will answer most commonly asked questions like what is root, how important it is to manage root, how to remove root, about rooting and warranty, so make sure that you do read this.
If Kingroot worked on your device then do post your device name down in the comments and help others who have the same device. Rooting with kingroot is 100% safe, no data loss, no disc breaking, none of that. If Kingroot fails to root your device then your device is a tough one but no worries post your device name in the comments and i will help you with it.
Hope you liked our post—let us know what you think in the comments below.